Arian Foster, Ray Rice, LeSean McCoy and Maurice Jones-Drew (in some order) are going to be the first running backs taken in most fantasy drafts.  Who should be the next back off the board?  Unlike in past years, running back gets ugly quick once you get past the big four.  Marshawn Lynch, Ryan Mathews, Chris Johnson and, recently, Matt Forte are the guys whose names come up next, but each has some serious question marks.  At the end of the day, Chris Johnson is your best bet for top end production.
It wasn't long ago that Chris Johnson was the consensus number one overall pick.  He was fresh off a 2,000 yard season in which he found pay dirt 16 times and led all running backs in fantasy points by a substantial margin.  Of course, that was CJ2K – an electrifying runner who could go the distance on any play.  The CJ1K we've seen for most of the past two seasons doesn't have the explosiveness or nose for the goal line that made Johnson a fantasy stud back in 2009.
That being said, Johnson still has elite upside.  Johnson got the rock 20 or more times in 5 games last year.  In those games, he topped 100 yards 4 out of 5 times and scored 3 of his 4 touchdowns for the year.  He even showed glimpses of the CJ2K of old during one stretch, tearing off 190 and 153 rushing yards in back-to-back weeks.  Of course, Johnson surrounded these highlight reel games with ones where he was largely ineffective, but he showed he can still be a top fantasy back.
The real question is, will the Titans get Johnson enough carries this year to let him get going each week?  I think so.  It's too soon to tell, but the Jake Locker era might begin this fall and a young quarterback's best friend is a strong running game.  If Locker is under center, the Titans will lean on Johnson to try and soften the learning curve.  With or without Locker, Jared Cook's emergence as a threat at tight end and the drafting of a new big-play threat in first round pick wide receiver Kendall Wright should mean that Johnson will face fewer eight man fronts in 2012 and have more room to work.  We should see Johnson's carries and touchdowns pick up in 2012, paving the way for a strong fantasy showing.
While Johnson has some concerns, the other backs going in his neighborhood, Marshawn Lynch, Ryan Mathews and Matt Forte, each have even bigger questions to answer in 2012.  The Skittles rained down more than a few times last year, as Lynch scored at least one TD in 11 games.  He capped off his season with an unforgettable 9 game touchdown streak that went through many league's fantasy playoffs.  All these touchdowns propelled Lynch to a 5th place finish among fantasy backs in 2011, clocking in behind only the big four.  The problem with counting on a back like Lynch, whose production is tied so tightly to touchdowns, is that TDs can vary wildly from year to year.  Last season, the Beast scored more touchdowns than he had in his prior two seasons combined.  If Lynch's touchdown total returns to his pre-2011 production levels, he'll have had no business being taken with a late first round pick.  The fact that Lynch was arrested this summer on suspicion of DUI and is a repeat offender under the league's player conduct policy does not bode well for his 2012 prospects.  I would not be surprised if Commissioner Goddell comes down hard on Lynch, suspending  him for at least the first two games of the season.  Even if Lynch somehow avoids disciplinary action, 2011 was probably his ceiling.  He has nowhere to go but down.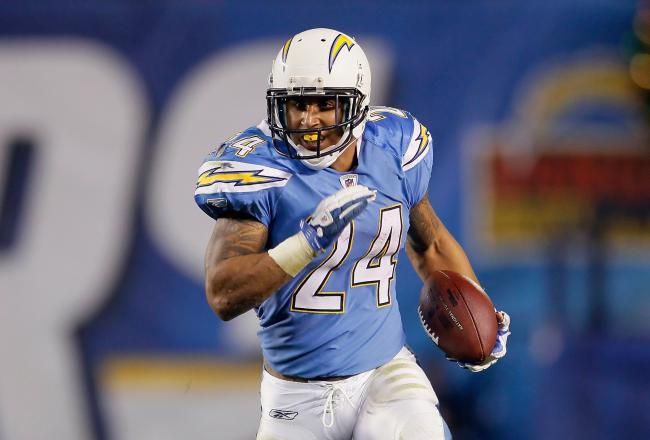 For Ryan Mathews, this season is all about opportunity.  Last year, Mathews finished roughly 30 fantasy points behind Lynch and came in as the 7th overall fantasy back.  Now, 10 touchdown scorer Mike Tolbert has left San Diego, presumptively clearing the way for Mathews to assume expanded goal line duties in addition to his every down workload.  Can Mathews stay healthy for an entire season with all those touches?  Also, with Ronnie Brown in town for one last hurrah and bruiser Le'Ron McClain trying to carve out a spot in the Bolts backfield, does one of the new running backs step in to vulture some TDs? Mathews has never played a full 16 game season.  The wear and tear of a full NFL campaign may be too much for him.  The Chargers play callers may also split up the carries to keep Mathews fresh for the end of the season.  Mathews' upside is through the roof, but the uncertainty about his durability and workload makes me hesitant to make him the foundation of my fantasy roster.
Ever since signing a new four deal worth up to $31.5 million, Matt Forte has surged back into the conversation of running backs that might be worthy of a first round pick.  Based on his performance early in 2011, it would be hard to disagree.  Forte was on pace to be a top 5 running back last season when he went down in week 12 with a sprained MCL.  He bounced back in time to make an appearance in the pro bowl and should be ready to go at the beginning of the 2012 campaign.  Of course, re-injury is always a concern with a back coming off an MCL sprain.  But the bigger question for Forte is whether he will play the same role in this year's Bears attack.  Chicago signed bruising running back Michael Bush to a four year contract worth up to $14 million this offseason.  The Bears would not have spent so much to acquire a back who rushed for 977 yards last year if they didn't intend to carve out a place for him in the offense.  Bush should vulture the bulk of the goal line work, which is nothing new for Forte owners who had to deal with Marion Barber playing a similar role last year.  The big problem for Forte will be if Bush starts to cut into his playing time when the Bears are between the 20s.  Given Forte's recent injury history, the Bears would be foolish not to consider sharing the load more evenly between Forte and Bush.  If this happens, Forte's fantasy value could take a significant hit.
Don't forget, the Bears also brought in Brandon Marshall, Jay Cutler's old friend from his Denver days, to revitalize the Bears passing attack.  Marshall led the league in targets the last time him and Cutler were on the same team.  While it's hard to believe they can pick up right where they left off, Cutler will send a number of passes Marshall's way, potentially shifting the balance of the Bears' offense.  If Chicago starts to lean more heavily on Cutler's arm, Forte's touches and fantasy production could suffer.
At the end of this season, Johnson, Lynch, Mathews or Forte may have emerged (or re-emerged) as the next elite fantasy rusher.  At this point, only one of them has shown that he has what it takes to be the best back in fantasy.  If I have to gamble on one of these guys' upside, I'm taking Johnson and crossing my fingers that the old CJ2K shows up this year.